Aston Hall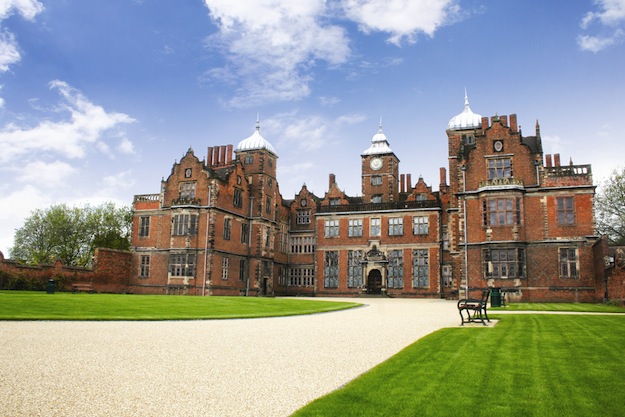 Aston Hall is located in Aston, Birmingham. Construction commenced in April 1618 and Sir Thomas Holte moved into the hall in 1631. Construction was completed in April 1635. It was designed by John Thorpeand has Grade I listing status.The house was built for Sir Thomas Holte and remained in the family until 1817 when it was sold and leased by James Watt Jr., son of industrial pioneer James Watt. The house was then purchased in 1858 by a private company (the Aston Hall and Park Company Ltd) for use as a public park and museum. After financial difficulties it was then bought by the Birmingham Corporation in 1864 becoming the first historic country house to pass into municipal ownership.
The house was severely damaged after an attack by Parliamentary troops in 1643; some of the damage is still evident. There is a hole in the staircase where a cannonball went through a window, an open door and into the banister.
In the 1920s, the Birmingham Corporation were having financial troubles and had to choose between saving Aston Hall and the nearby Perry Hall. Aston Hall was saved and in 1927, The Birmingham Civic Society designed formal gardens which were implemented by the city with a workforce recruited from the unemployed and paid for by government grants.
Aston Hall is now a community museum managed by Birmingham Museums Trust, having previously been managed by Birmingham City Council until 2012. Aston Hall is open to the public during the summer months, following extensive renovation from 2006-2009.
Sir Thomas Hiltwas not known for being well behaved or likeable. When his daughter chose to run off and marry the man she loved rather than the man he picked out for her to marry, he put a stop to it by locking her up for 16 years in a room on the upper floor. Naturally loneliness took its toll and when she died 16 years later, she had gone insane. She is seen at least twice per year, and people often mistake her for staff that dress in period costume.
Another spirit often present is Mrs. Walker, a housekeeper of Sir Thomas Hilt is said to be a green lady. She is often seen sitting in a chair in the Housekeepers Room or in the Great Hall. Walker never says anything, and usually will disappear shortly after being noticed.
The entrance to the central tower and servants quarters is made via a long corridor on the roof. It is known as Dick's Garret after a domestic servant hung himself there after being jilted by the love of his life. He's apparition appeared often, however, over time his is rarely seen these days.
Comments