Fornham Park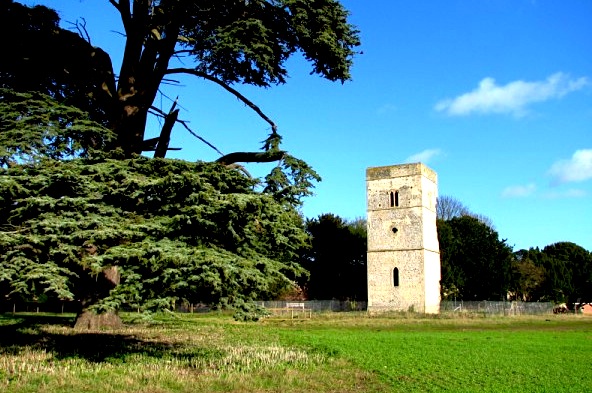 Fornham, formally known as Fornham All Saints, is a small settlement in Suffolk. The history of the park mainly involved the scene of the Battle of Fornham in 1173 where over 3000 Flemish mercenaries were slaughtered. This important battle saw forces loyal to King Henry II routed a rebel army composed largely of Flemish mercenaries led by the Earl of Leicester. Many of the dead were buried where they lay; during the 19th Century a large barrow was unearthed and found to contain over thirty skeletons.
The park also contained a Norman church which was dedicated to St Genevieve and was later the site of a large manor house. The church was burnt down in 1755 by a local man out shooting rooks, only the church tower remains. It's graveyard, located some distance away, continued to be used for another century. The tower was given Grade II listed status in 1955 and therefore, it hasn't been destroyed. Fornham Hall remained an imposing manor house until the Second World War, when it was taken over by the army and was used as a camp for Indian soldiers, and later used as a military training ground. During the process, the ground was destroyed. The hall was demolished in 1950.
A local myth which surrounds the ruins believe it is haunted on Christmas Eve night by the ghost of a monk, who is possibly involved with the battle in 1173. Shortly before the hall was demolished soldiers reported seeing the figure of a woman dressed in white. She appeared at midnight, walking from the house into the church tower. Unfortunately her identity isn't known. At the turn of the 20th Century the locals reported seeing a female apparition at the park gates. She was known as Red Hannah, who used to scare naughty village children. She was known to appare at dusk near the park entrance between the Fornham and Ingham crossroads, now a roundabout.
Comments