Harlow Woods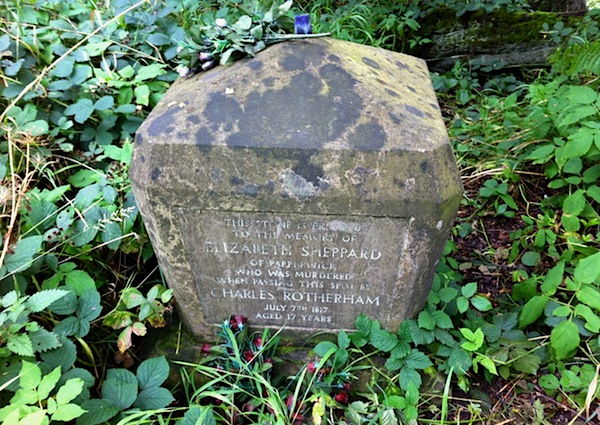 Harlow Woods is situated in Mansfield, Nottinghamshire, it is a vast wooded area near the A617 and the A60. On 7th July 1817 Elizabeth Shepherd, who was a seventeen year old girl, was found murdered near Harlow Wood. She was walking along the road after leaving her home in Papplewick to look for work in Mansfield.
On the 25th of July, a 33 year old man from Sheffield named Charles Rotherham stayed overnight at The Three Crowns Inn in Redhill. There he tried to sell a pair of women's shoes and an umbrella. He left the shoes behind in his room, and later sold the umbrella in Bunny. People soon made a connection between Charles Rotherham and the items on Elizabeth.
Charles Rotherham confessed to the foul deed and said that he didn't know why he had done it. He had struck her repeatedly until she died. He did not know Elizabeth, and didn't speak throughout the act. As Elizabeth didn't carry any money on her at the time of the murder, Charles took her shoes and umbrella.
Charles was arrested in Loughborough for the murder and was later executed by hanging at Gallows Hill in Nottingham on July 28th 1817.
At the site of where Elizabeth's body was found a memorial stone was erected. According to reports she is known to appear if the memorial stone is touched. There are also reports of footsteps being heard.
Comments