Scarborough Castle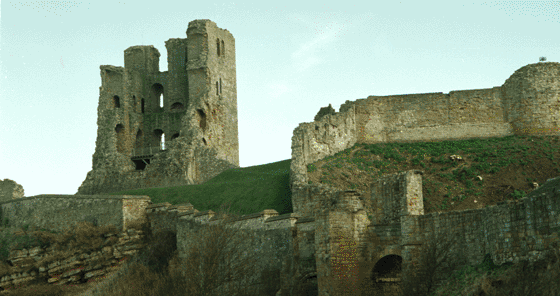 Scarborough Castle is a former medieval Royal fortress situated on a rocky promontory overlooking the North Sea and Scarborough, North Yorkshire. The site of the castle, encompassing the Iron Age settlement, Roman signal station, an Anglo-Scandinavian settlement and chapel, the 12th century enclosure castle and 18th century battery, is a scheduled monument of national importance.
Fortifications for a wooden castle were built in the 1130s, but the present stone castle dates from the 1150s. Over the centuries, several other structures were added, with medieval monarchs investing heavily in what was then an important fortress that guarded the Yorkshire coastline, Scarborough's port trade, and the north of England from Scottish or continental invasion. The castle was built by William Le Gros.
It was operational and defended during various civil wars, sieges and conflicts, as kings fought with rival barons, faced rebellion and clashed with republican forces, though peace with Scotland and the conclusion of civil and continental wars in the 17th century led to its decline in importance.
While Scarborough Castle was severely damaged during the English Civil War, it remained usable until the end of World War I. The castle served as a prison, and later, military barracks.
The castle grounds are reputed to be haunted by three ghosts, among them a Roman soldier. The most well known spirit to haunt the castle is Piers Gaveston, the son of a Gascon knight, who was the childhood friend of King Edward II. In 1312 Piers was captured at Scarborough Castle and taken to Warwick Castle where he was held prisoner and then executed. It is said that the headless spirit of Gaveston returns to Scarborough Castle to haunt the ruins. There are countless number of reports of visitors feeling like they are being pushed or shoved, some have even reported hearing an unusual laugh.
A paranormal team have investigated the castle and noticed that most activity is on the outside wall of the castle rather than inside. Piers was a joker and often hid in the dark along the castle wall and he would push and shove Barons and Earls who strolled along the all late at night.
Comments