Hall Place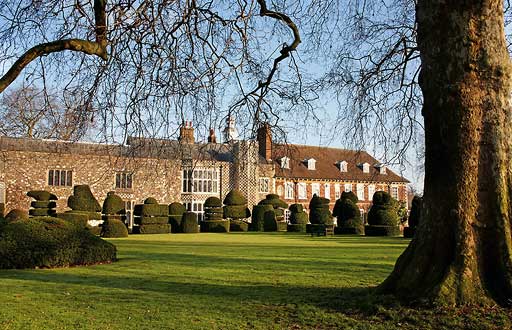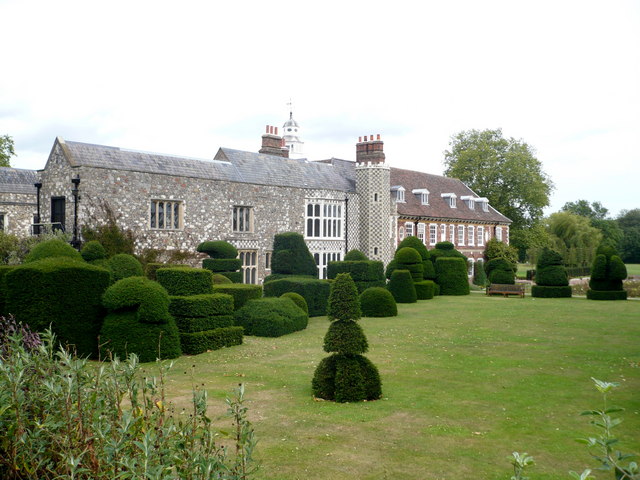 Hall Place is situated in Bexley, Kent. The house dates back to around 1540 when wealthy merchant Sir John Champneys, Lord Mayor of the City of London in 1534, used stone recycled from a nearby former monastery, Lesnes Abbey, to build himself a country house on a site where a manor house was recorded some 300 years earlier in 1241.
Alterations to Champneys' house were made in 1560. In 1649, the house was sold to another wealthy City merchant, Sir Robert Austen (1587–1666), who added a second wing built of red bricks, doubling the size of the house but without trying to harmonise the two halves built in highly contrasting architectural styles. He was created 1st Baronet Austen, of Hall Place in Bexley, on 10 July 1660 and briefly held the office of High Sheriff of Kent.
The house remained in the Austen family until the mid 18th century when Robert Austen (1697–1743) died and the estate was eventually purchased by his brother-in-law Sir Francis Dashwood, a member of the notorious Hellfire Club. It remained in the Dashwood family until 1926, but was used as a boarding school for much of the 19th century.
Today, the building still houses a museum of local artefacts, and a history and tourist information centre. The estate's Jacobean Barn is now used as a public house and restaurant with bars in the Mill House. Set within 63 hectares of parkland and Grade II* gardens.
Hall Place supposedly haunted by three ghosts. In the attic there is reputedly the spirit of a maidservant. The second is that of Lady Constance who leapt to her death from the tower after witnessing her husband Sir Thomas being killed by a stag in the courtyard. The third ghost is said to be Edward, the Black Prince, who appears in black armour and is said to be a bad omen for whoever encounters his apparition.
Comments