Minsden Chapel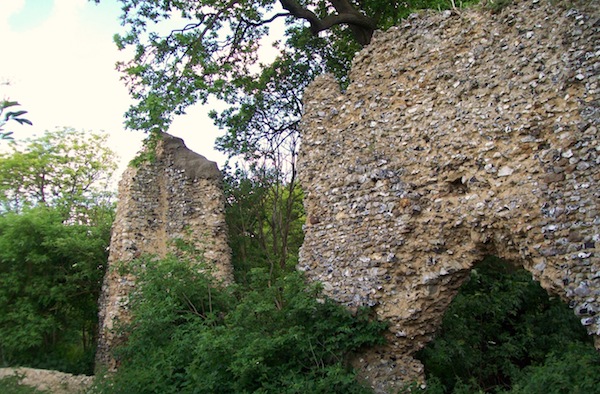 Minsden Chapel, situated in an isolated wooded area in Hertfordshire, dates back to the 14th Century. It is now a roofless shell, made of flint nodules. It was a stop off point on the pilgrim route to St Albans Abbey. By the 17th Century the chapel was a picturesque ruin, which was still used by those of a more romantic disposition for weddings. By 1725 the bells had been stolen from the chapel, and the danger of falling masonry had put an end to the open-air marriage ceremonies.
In the early part of the twentieth century the chapel became linked with Reginald Hine, who fell in love with the place. Reginald was a local historian who researched into the chapel's history extensively.
The Chapel is haunted by a phantom monk, which captured walking out of the ruins on camera in 1907 by W.T. Latchmore. The monk is said to appear at midnight on All Hallows Eve, to the Northeast of the chapel, as the bells of the chapel begin to toll. He is said to climb a set of steps, which no longer exist.
Some witnesses have heard faint music from the chapel glowing figures and shapes on the ruin walls. There is even a legend about a nun who was murdered in the Chapel, she also haunts the area. The site is still active today, orbs are frequently captured on camera and stones thrown at walls.
Comments