Woodchester Mansion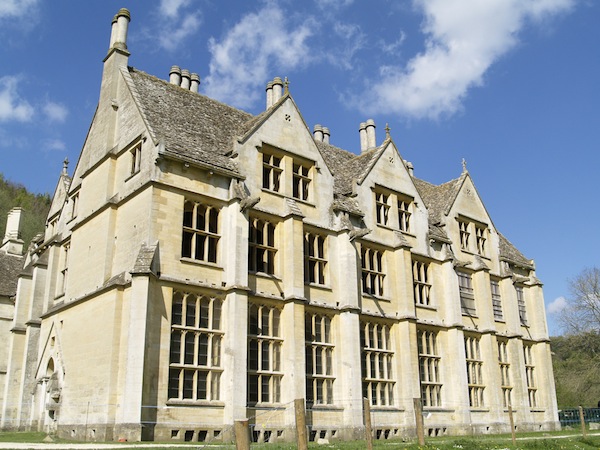 Woodchester Mansion is situated at the western end of Woodchester Park and is a Grade I listed house in the Victorian Gothic style built in 1858. The original manor house for Woodchester was in the heart of the settlement of Woodchester, next to the old church. After a succession of owners, the manor was granted to George Huntley in 1564. Subsequently, he decided to create a deer park, a little distance from the manor house, by both purchase and through the enclosure of common agricultural land in the Inchbrook valley. A seven-mile long boundary wall surrounded the park and by 1610 a hunting lodge was built at the western end.
The expense of creating the park is thought to have nearly bankrupted the Huntleys and the manor and park were sold to Sir Robert Ducie in 1631. John SpeyersPart drew up plans which turned a group of small fishponds into a series of lakes – and this was done in the late 18th or early 19th Century. Not only was the park remodelled but the house too – several times in the 1770s and 1830s, but in 1840 when the 2nd Earl Ducie wanted further alterations and repairs, the estimate was thought to be too great and the estate was sold to William Leigh, a wealthy merchant.
William Leigh approached Augustus Pugin to draw up plans for a new mansion as Gothic Revival style was fashionable. Pugin drew up plans for the house but in 1846 he became ill and the project was dropped but later it was handed to a young local man called Benjamin Bucknall, and both he and his patron, the wealthy William Leigh, were admirers of the important French architect Eugene Viollet-le-Duc. There is a strong French influence in the style of the house which also makes Woodchester slightly different from other buildings of its type and time. Woodchester Mansion was constructed from 1858 to 1870, and finally in 1873, when William Leigh died, all work stopped.
There are many ghosts and spirits that haunt the mansion, many of which are said to be connected with the original mansion Spring Park. The bathroom in Woodchester Mansion is said to be the most haunted room in the mansion. Two dimensional figures have been seen in the bathroom. One of the many corridors is said to be haunted by the white lady of Woodchester Mansion. Apparitions and sudden temperature drops are a common occurrence within the mansion.
Comments