Southern Necropolis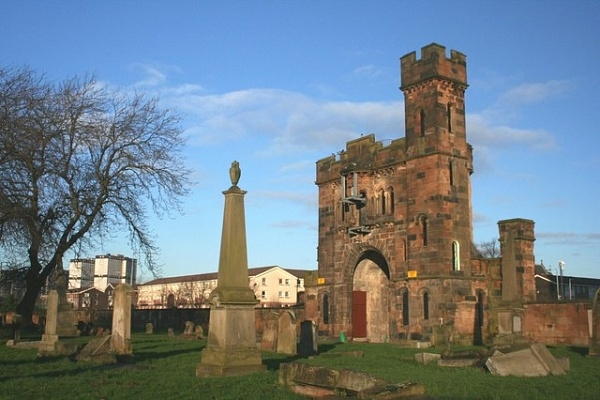 The Southern Necropolis is a cemetery in the Gorbals district of southern Glasgow, Scotland. It was opened in the year 1840 to provide an affordable and respectable place of burial for the people of Gorbals and the surrounding areas of the city of Glasgow. There are over 250,000 burials within the many lairs.
The cemetery was established in response to the crowded state of the Old Gorbals Burial Ground, on Rutherglen Road. Proposals for a new cemetery were put forward in 1839, and the following year land was purchased from William Gilmour of Oatlands. The first burial, that of a 16-month-old child, took place on 21 July 1840.
Whilst the paranormal events are unclear, it is widely reported that in the 1950s, an urban myth was widespread in the local area, that the graveyard was home to a vampire with iron teeth. Apparently during the story's height, hundreds of children patrolled the area in search of the creature which they thought had kidnapped and devoured two local children. A ghostly white lady has also been seen floating through the cemetery at night by locals.
Comments