Red Lion Hotel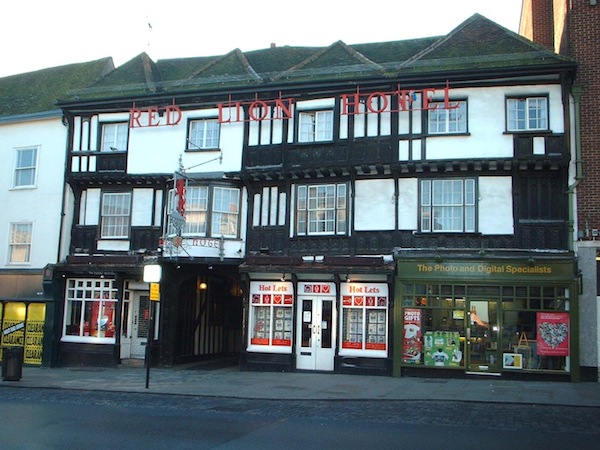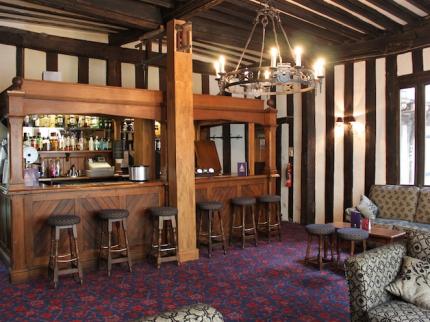 The Red Lion Hotel situated in Colchester town centre is a grad I listed building built in 1465. The Inn's Parliament restaurant, with its beamed ceiling, was once a banqueting hall, and was the setting for Oliver Cromwell to hold official parliament meetings. For over 200 years the hotel had an instant dismissal rule, for any employees caught mentioning the ghosts, in case it scared customers off.
There are at least 3 known ghosts within the hotel. The most active spirit at the Inn is that of Alice Katherine Millar who was a chambermaid at the hotel, murdered by her partner in 1638, she now haunts the building. Her ghostly apparition was reportedly so frightening that, 200 years ago, the owner of the Red Lion Hotel bricked up the doorway to her old room. Guests have reportedly seen Alice in rooms 5, 6 and 10, her apparition has also been seen in the kitchen and walking through the bricked up doorway. Recently the assistant manager at the hotel woke up at 3am like a bolt of electricity had gone through his body. As he looked around the room a beam of moonlight landed on the rocking chair next to his bed. As he watched, it began to rock backwards and forwards, slowly Alice appeared sitting in the chair. She spoke to him and asked "are you alright?" When he replied "yes", she disappeared. Alice regularly been heard whispering and even talking to members of staff.
A shadowy figure of a hooded monk has also been seen wandering the hallways and the reception area. The monk is said to have died in a fire at the Inn, whilst trying to save the children that were in his care. Another presence at the hotel is that of a small boy, his apparition has been seen in the parliament room. The apparition is often usually reported by children, it is said that he makes his presence felt by appearing in photos taken by the guests.
Comments