Berry Pomeroy Castle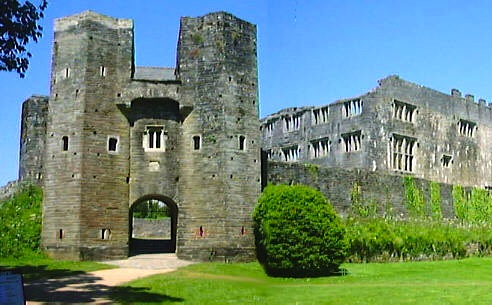 Berry Pomeroy Castle, a Tudor mansion within the walls of an earlier castle, is near the village of Berry Pomeroy, in South Devon. It was built in the late 15th century by the Pomeroy family which had held the land since the 11th century. By 1547 the family was in financial difficulties, they sold the lands to Edward Seymour, 1st Duke of Somerset. Apart from a short period of forfeit to the Crown after Edward's execution, the castle has remained in the Seymour family ever since, although it was abandoned in the late 17th century when the fourth baronet moved to Wiltshire.
After lying in ruins for a hundred years, in the 19th century the castle became celebrated as an example of the "picturesque", and it became a popular tourist attraction, a status which it retains today—aided by its reputation of being haunted. Between 1980 and 1996 the castle was subjected to extensive archaeological excavations that clarified much of its history and overturned previously-held beliefs regarding its age and cause of destruction.
It is reported that there are several hauntings in Berry Pomeroy Castle. A female in a long blue cape has been seen around a particular archway and is said to be a Pomeroy daughter who murdered her own illegitimate child.
Tourists have taken photographs in the area who later discovered the figure of a man in a tricorn hat and a lady in dark clothes who weren't apparent when the photos were taken. The Castle also very well known for it's very own "White Lady" who appears in the castle dungeons and upon the ramparts. It is said she is yet another of the unfortunate Pomeroy daughters, who was placed in the dungeons by her jealous sister and left there to starve slowly to death. Also, a child's cry can be heard from the archways of the castle and visitors have described the site as having a "feeling of absolute desolation, even stark evil".
Comments